Photos of the 2015 Challenge Cup games and Premier Men's League Winners; July 25-26; tournament sponsored by Vancouver United FC : 'Photographs by Phil Fasciglione'

Welcome to PCSL
The British Columbia based Pacific Coast Soccer League (PCSL) is an inter-city, cross-border adult league with a season that runs typically from May to August. Member clubs are drawn from across the Pacific Northwest in cities from the British Columbia interior, the Fraser Valley, the Lower Mainland, Vancouver Island, through Washington State and Oregon at times.
Posted 7/28/2015
More Photos of Challenge Cup
For more photos of the July 26th, 2015 championship game between Khalsa Sporting Club and Victoria Highlanders, go to" BC Soccer Web's website.
more...
Posted 7/28/2015
Most Valuable Player Award
Dave Malamura, from Khalsa Sporting Club, excepts the MVP trophy from Dave Collard, PCSL President, for his play in the 2015 Premier Men's Challenge Championship Cup Game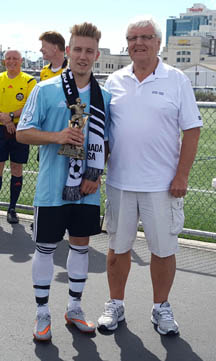 more...
Posted 7/27/2015
2015 Challenge Cup Final
Khalsa Sporting Club vs Victoria Highlanders, July 26th, 2015. Congratulations to the Khalsa Sporting Club for winning the 2015 Shelia Anderson Memorial Cup for the 6th time in Club history. Victoria Highlanders and Khalsa Sporting Club played the game the way it should be played, with everyone present on the edge of their seats until the very end. The score at full Time was tied 1-1 and in the end Khalsa won in the penalty shootout. The Final Score was 4-1 for Khalsa Sporting Club. The PCSL was pleased to have the 2015 season finish on such a high standard of play & look forward to the upcoming 2016 season.
more...
Posted 6/9/2015
Mid-Season Presidents Report 2015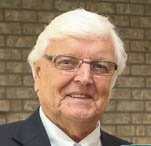 more...
Posted 5/21/2015
Player Discipline Records
To view those players who have been assigned red and/or yellow cards for playing infractions, please go to 'Discipline' on the right side of the green banner above and click 'Discipline Stats' and choose the 'Premier Men's Division'.
more...
News Archive
Copyright © TechSys Communications Ltd., All Rights Reserved. 2000-2015